Article from SIRC (Sept. 21/22)
by Kerry King, Connect Speech Therapy
Sport-Related Concussion has become recognized as a major health problem that affects millions of people around the world annually (Wang et al., 2016). In Canada, sport and recreational activities account for a large proportion of concussions, particularly amongst children, adolescents and young adults (Government of Canada 2018).  
Most concussed individuals recover within 4 weeks. Typical symptoms may include headaches, nausea, dizziness and light sensitivity. However, there is a small proportion of individuals (15-30%) who continue experiencing symptoms and challenges weeks and months after a concussion (Parachute, 2017).  
In this blog, I will provide information about concussion symptoms that take a longer time to improve and may impact an athlete's cognitive and communication functioning in significant ways. I will also include information about how speech-language pathologists can play a role in recovery.
CONCUSSION AND SPORT
In general, concussion is a form of traumatic brain injury termed "mild traumatic brain injury." However, even though they are labeled "mild," this type of brain injury can have significant effects on individuals' lives (Cleveland Clinic, 2020).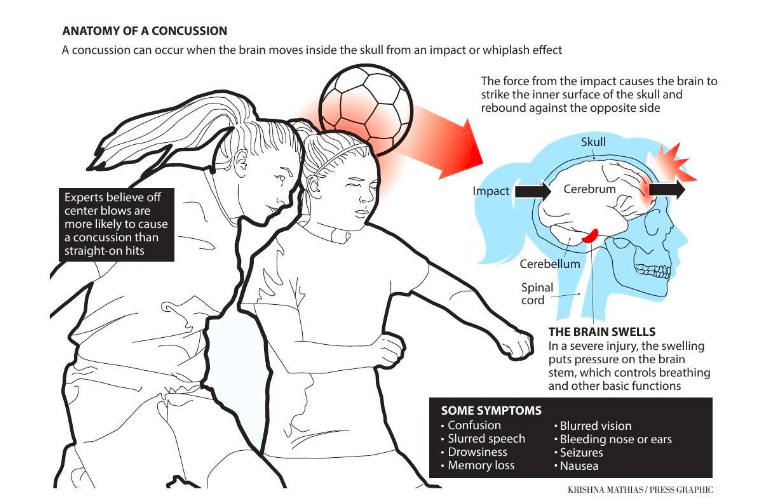 Concussion results from an impact to the head that impacts the brain. Once impacted, the brain (which is made of fragile, squishy, jelly-like tissue) stretches and bruises, damaging nerve cells and blood vessels and causing a cascade of chemical changes to occur. The damage and chemical disruption results in an acute, temporary loss of normal brain function. When this injury happens to a person participating in an athletic activity or sport, it is considered a "Sport-Related Concussion."
POST-CONCUSSION SYNDROME (PCS)
According to some researchers, most children recover from concussion within 4 weeks, while adults typically recover within 2 weeks. A single concussion does not usually result in permanent brain damage. As long as another concussion does not occur shortly after the first one, most athletes do not experience ongoing clinical or cognitive symptoms (Parachute, 2017; Cleveland Clinic, 2020). 
However, even after a single concussion, 15-30% of individuals do not fully recover within the expected timeframe. This is often referred to as Post-Concussion Syndrome (PCS) (McCrory, 2017), Persistent Post-Concussion Syndrome (PPCS), or, in sport, Persisting Symptoms after Sport-Related Concussion (Herring et al., 2021). Typically, by 1 to 3 months post-concussion, if concussion symptoms persist, a trained health professional will monitor the athlete more closely, make appropriate referrals for further assessment, and ultimately may diagnose the athlete with Post-Concussion Syndrome. 
PCS AND ACQUIRED COGNITIVE-COMMUNICATION DISORDER (ACCD)
Of the various symptoms that may persist past the expected concussion recovery timeframe, concussed athletes may experience ongoing challenges with cognition and communication, termed "Acquired Cognitive-Communication Disorder" (ACCD) (Ontario Neurotrauma Foundation 2017).   
Communication is a highly complex process that relies on the proper, intact functioning of many regions of the brain so that a person can read, write, talk, listen and socialize properly. ACCD is a communication difficulty caused by underlying deficits in cognition. In an athlete's case, a Sport-Related Concussion may lead to ACCD. 
The communication difficulties can include problems with listening, understanding spoken language, speaking, reading, writing, conversational interaction and social communication. These difficulties may occur as a result of underlying issues in areas of attention, memory, information processing, reasoning, problem solving, executive functions or self-regulation (Ontario Neurotrauma Foundation 2017). For many concussed individuals, they report feeling "dumb" long after their brain injury, when in fact they may be suffering from ACCD.
ACCD can hinder one's ability to efficiently and effectively do activities of daily living, as well as academic and work performance. Complex, fast-paced, cognitively-heavy tasks in certain sports (for example, strategic plays in football) may also be difficult.  
There are numerous examples of how ACCD issues may manifest following concussion. Often, lingering cognitive-communication challenges are only noticed after the concussed person physically feels better. They return to regular activity, but then struggle with complex, fast-paced or new cognitive-based tasks and demands. For example, a concussed football quarterback struggling with memory may experience difficulty recalling short-term or long-term information, difficulty remembering details of conversations, or difficulty learning new information to efficiently complete high-level, strategic plays on the field.  
WHAT SHOULD AND CAN BE DONE ABOUT ACCD?
PCS and resulting ACCD may impact an athlete's ability to perform their regular cognitive-communication related tasks of daily life, school, work or sport. So, it is important to flag ACCD early so that the appropriate supports can be put into place and training/rehabilitation can be initiated to optimize recovery.  
When working with a team of professionals managing Post-Concussion Syndrome, it is crucial to involve a speech-language pathologist (Ontario Neurotrauma Foundation, 2017). Speech-language pathologists are allied health experts who have unique training in areas of cognition and communication. They work closely with physicians, neuropsychologists, occupational therapists and physiotherapists to assist athletes improve their skills for all aspects of daily life. 
Given the impact of concussions globally, it is important for anyone involved in sport to be aware of the exceptions to the typical concussion experience. That is, what if an athlete is not recovering fully and fast enough in all aspects of functioning? Does the athlete struggle with ACCD and need more help?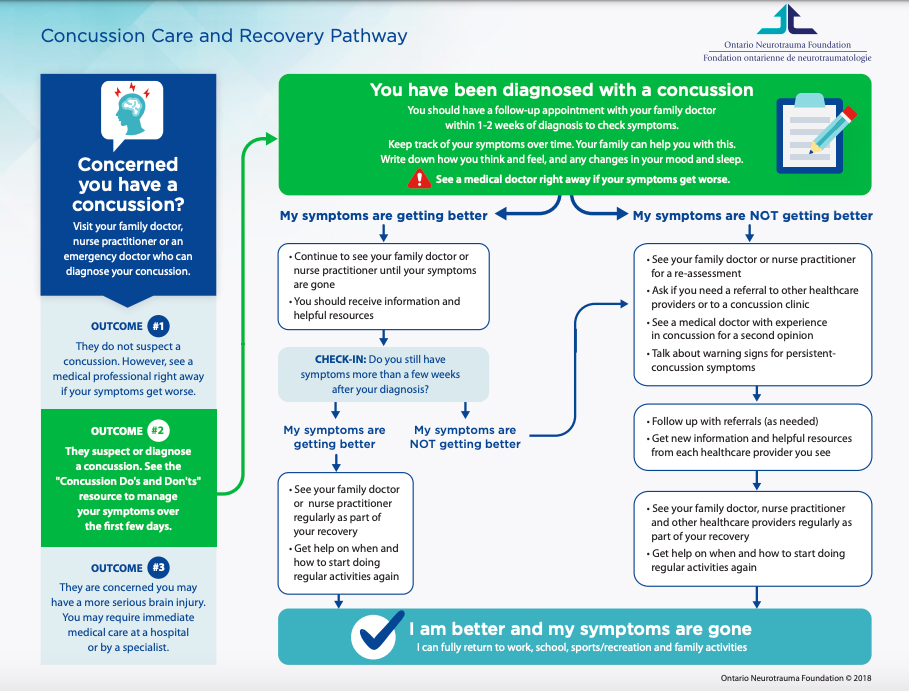 If persistent post-concussion symptoms are suspected following a sport-related concussion, ensure ongoing proper concussion management by involving the right health professionals as early as possible, and this should include speech-language pathologists. Doing so will help to optimize the athlete's recovery and improve the cognitive and communication skills needed for all aspects of daily life.
About the Author(s)
Kerry King is the owner of Connect Speech Therapy and has worked as a speech-language pathologist for more than a decade. She helps adolescents and adults improve their communication, cognition and swallowing abilities. Her work includes helping brain-injured individuals, such as concussed athletes, address their cognitive-communication capabilities.